WHO ARE WE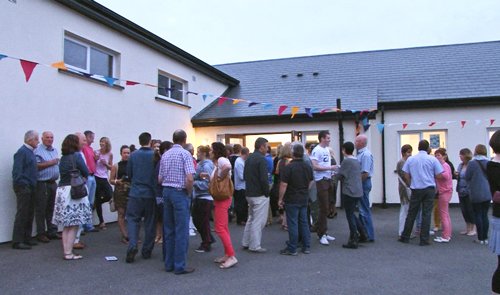 A voluntary, non-profit, community- and artist-led, group that shares the celebration that enagement with the arts can offer.
WHAT WE DO
A weekend multi-discipline festival with family-friendly events and workshops.
The initial model of theatre for adults, theatre for children, and workshops for all, has developed to include live classical and rock music, poetry, movies indoors and out, spectacle, spoken word, VR, pageant, and dance.
WHERE WE DO IT
At the Wicklow Gap (the less well-known one!) at Ballythomas, and environs, halfway between Gorey and Tinahely (Insert coordinates)
There is no village, no crossroads, no theatre, but every year since 2011 the Festival has adapted spaces indoors and out, bringing professional performances and art to this community of place in the hills of north Wexford.
WITH WHOM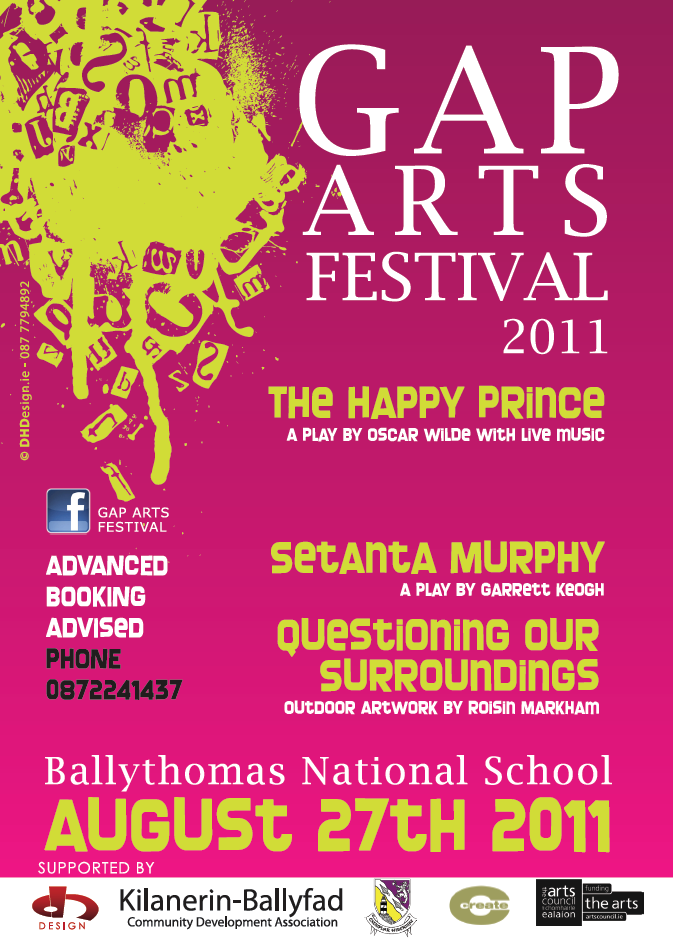 GAP-Poster-2011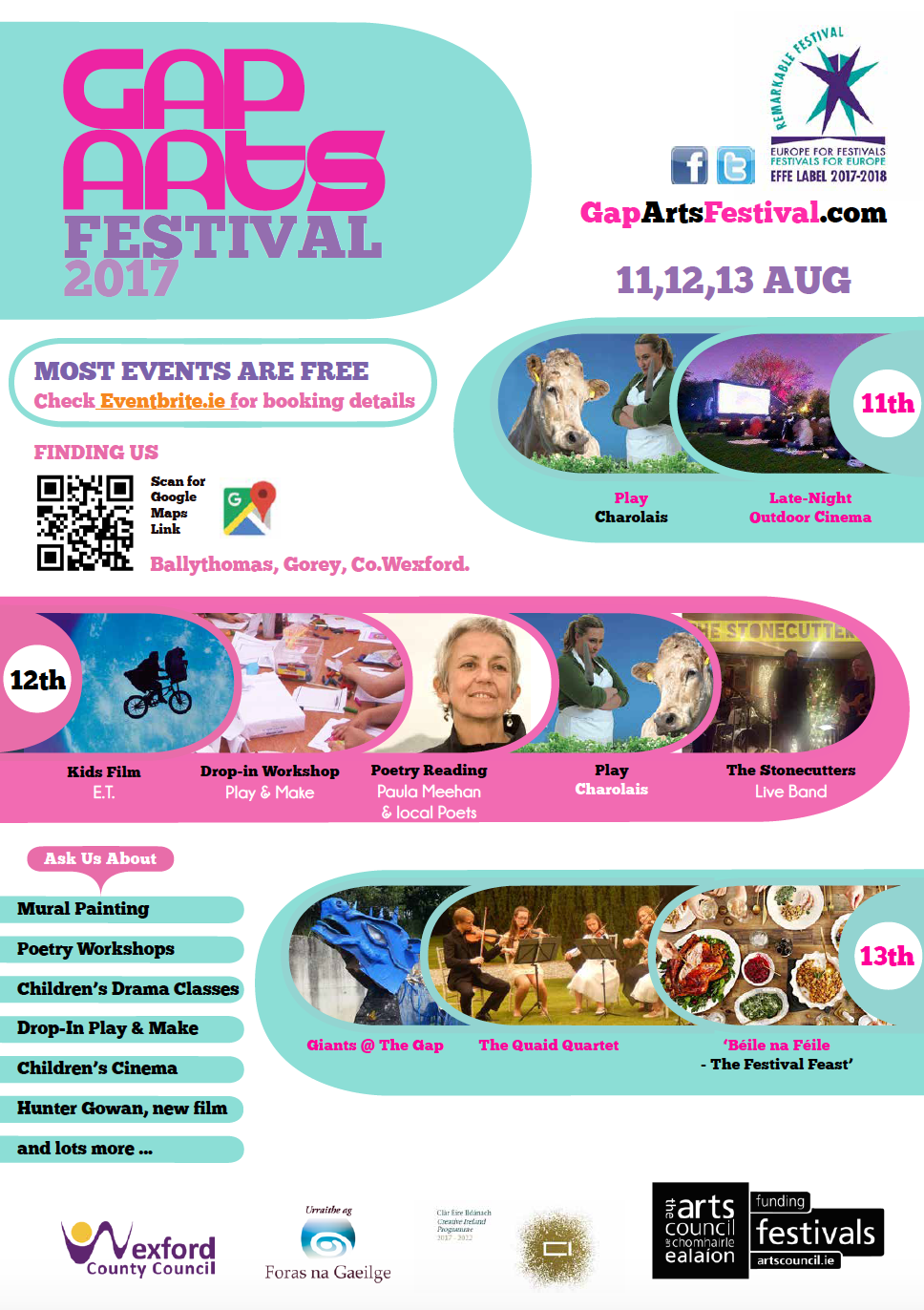 GAP-Poster-2017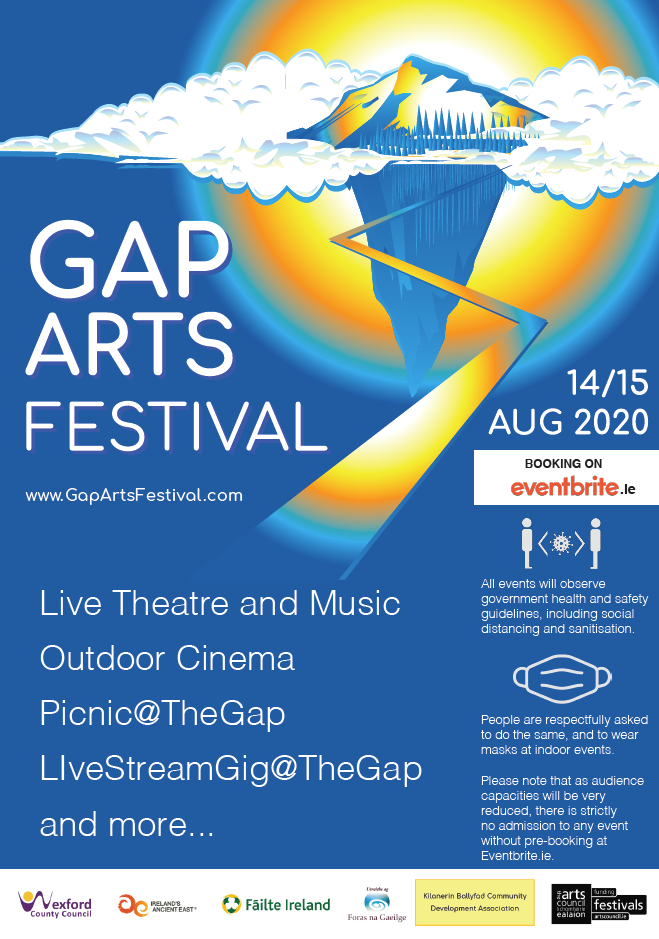 GAP-Poster-2020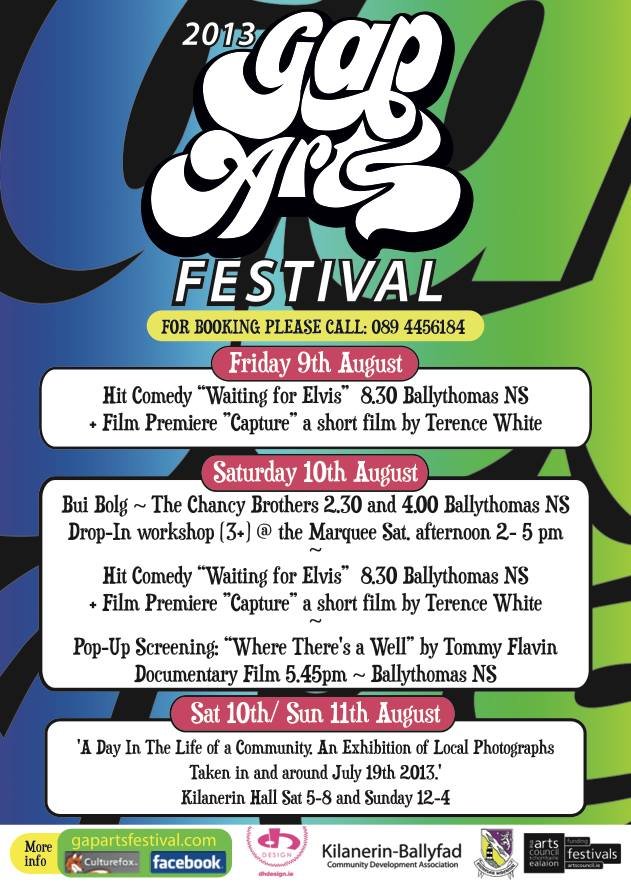 GAP-Poster-2013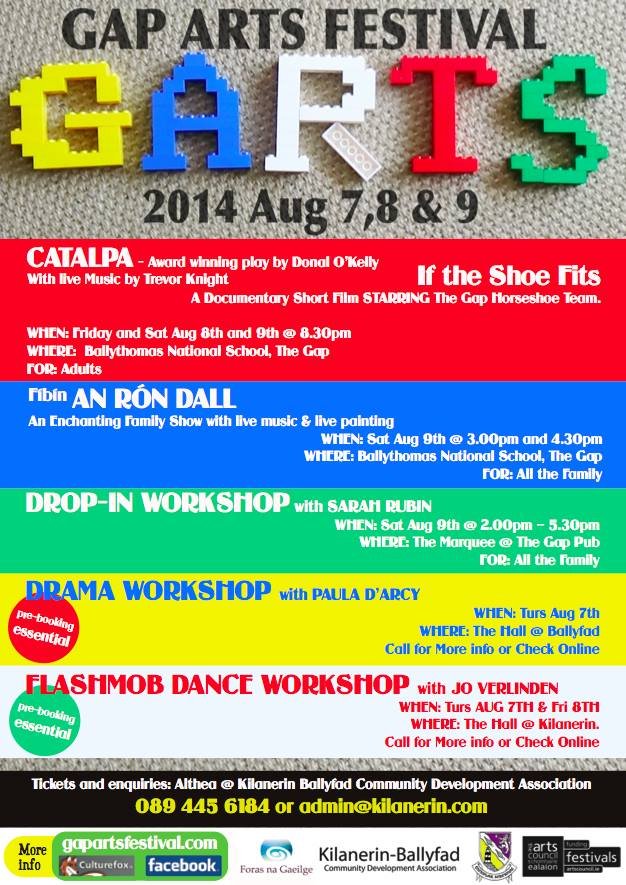 GAP-Poster-2014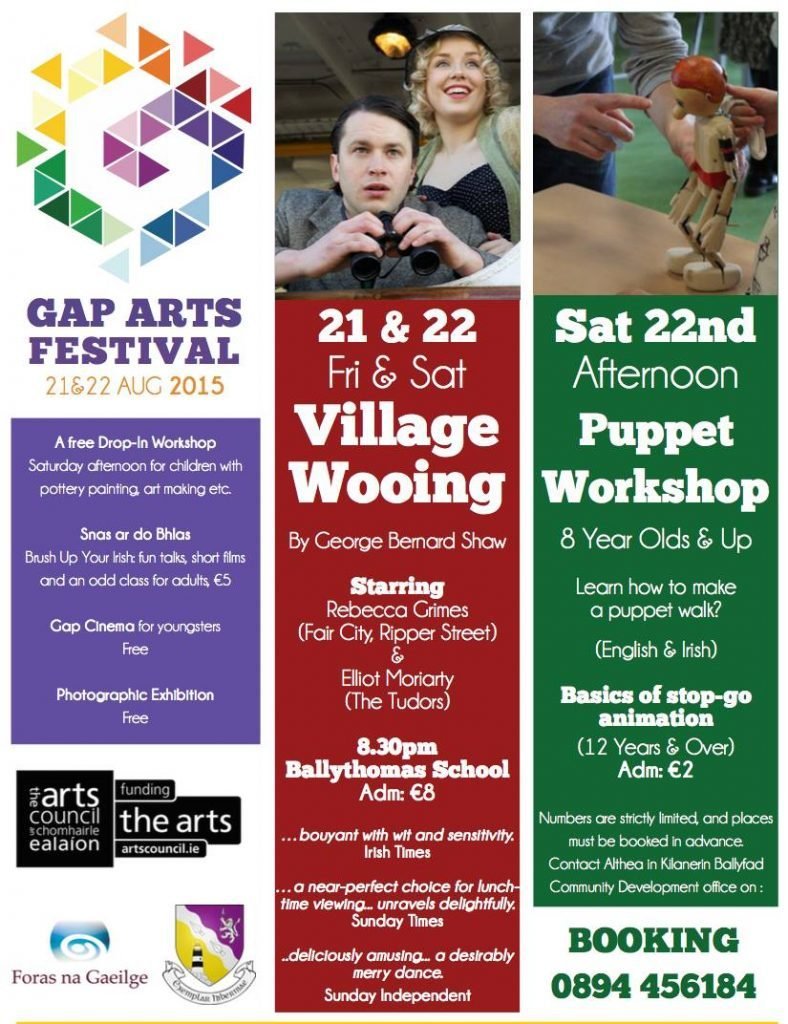 GAP-Poster-2015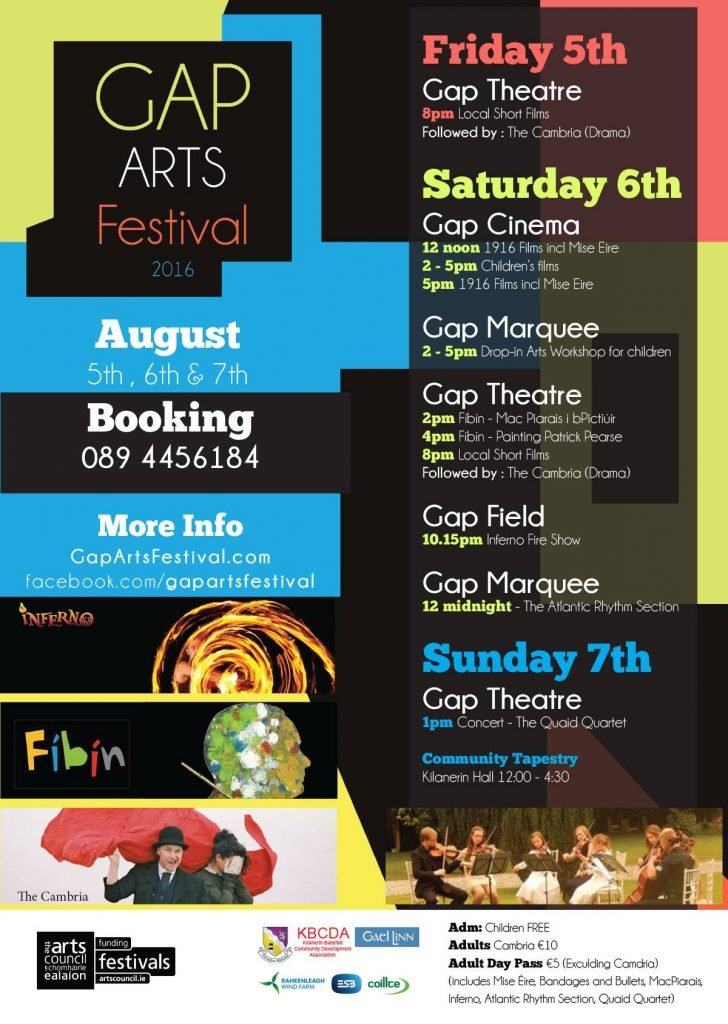 GAP-Poster-2016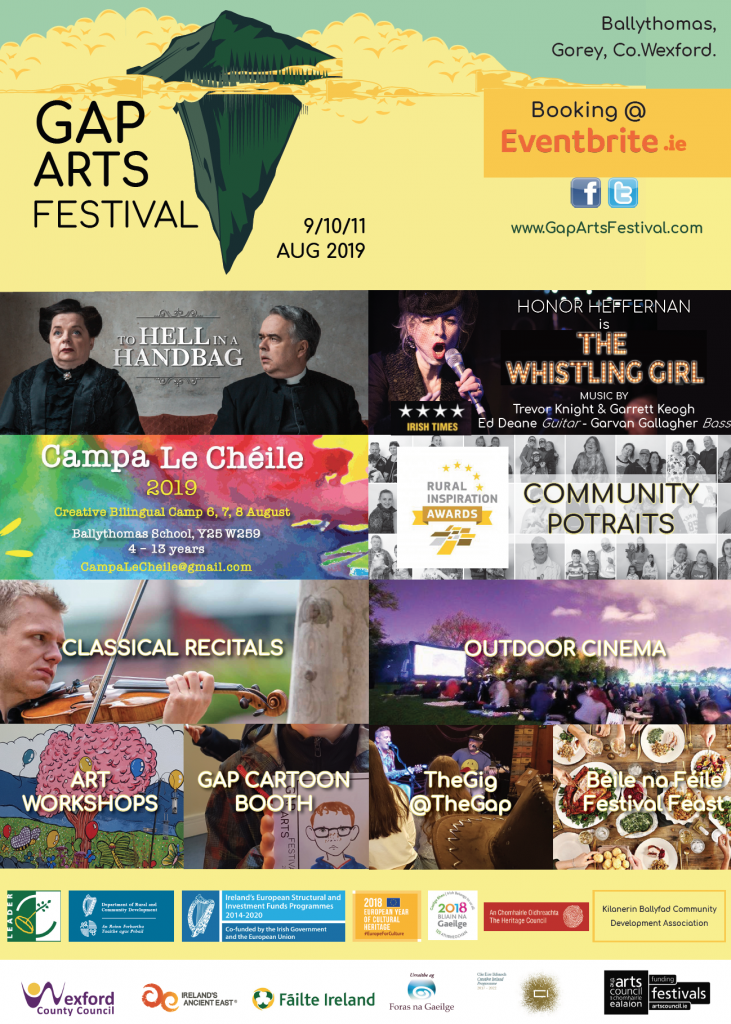 GAP-Poster-2019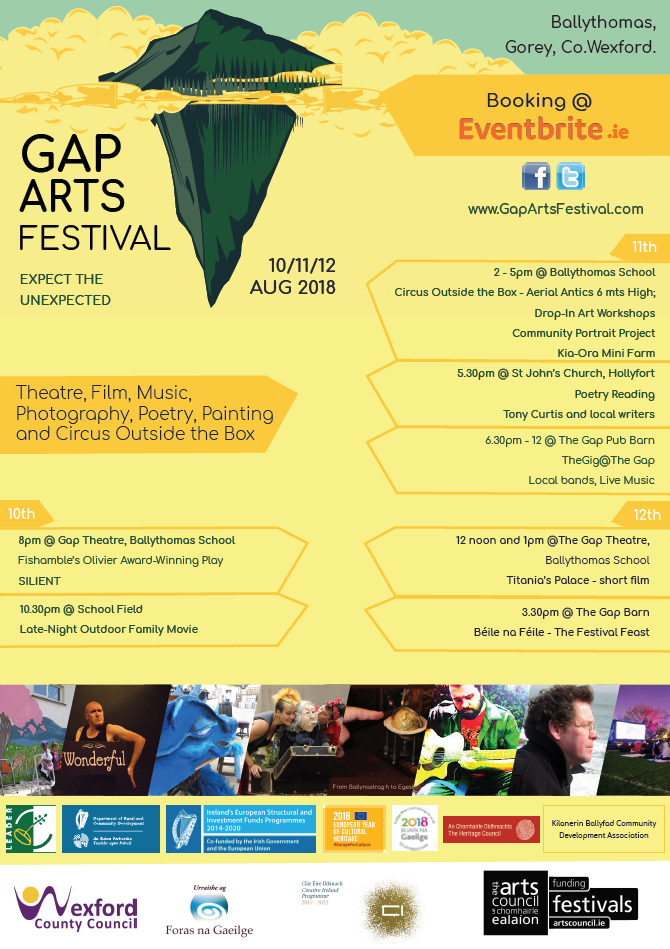 GAP-Poster-2018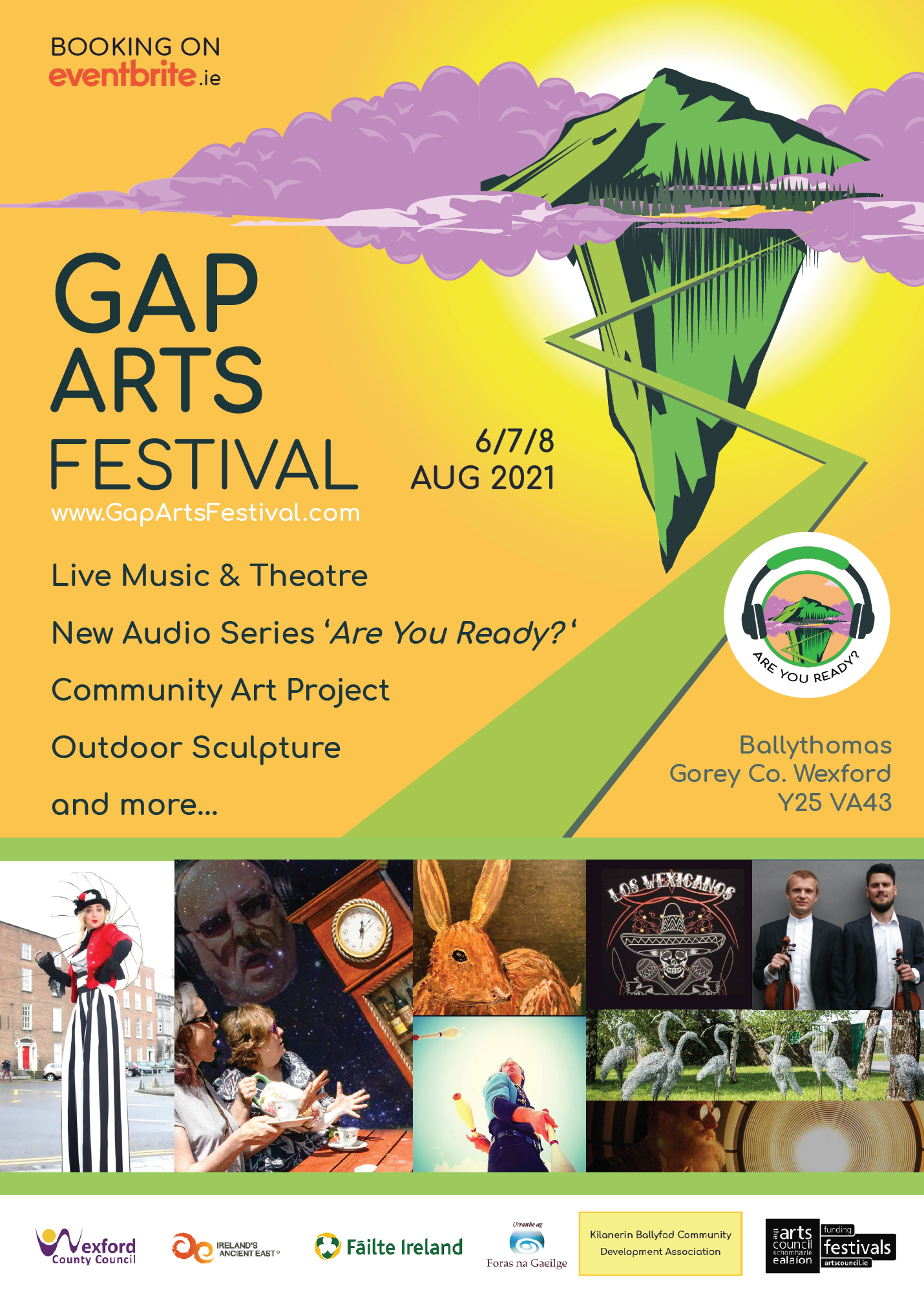 GAF-POSTER-2021-booklet
GAP-Poster-2012
Drawing mainly, but by no means exclusively, from the local community and the wider region, over 1500 young and old have participated in 68 workshops, some two months long. Four participants went on to IADT.
Artists such as Paula Meehan and Tony Curtis, Sylvia Cullen, Caoimhe Dunn, Dara McGee, Terence White, and rock and classical musicians have hosted workshops. And the Festival has given first-time performance and publication opportunities to writers, singers, musicians, photographers, film makers and actors.
AND WHY
Formed to fill the gap where professional theatre hadn't been seen since the fit-ups came with a tent in the 1950s, the Festival bring the arts to parts they wouldn't otherwise reach.
Back in 2011 when we started, an old man said: 'The last time the theatre came here, they pitched their tent in that field there, showed a brown and white film, and then did a melodrama…'
The Festival responds to and challenges the appetites shown for the arts in this community. And by offering engagements with art and artists we encourage and develop local skills towards community collaborations with artists in telling our own stories in our own landscape.
The Festival has produced 5 short films, a live audio presentation, a book of short stories, a Community Photo Portrait Project, an online photographic book, a podcast series in Irish and English, and commissioned new work in music, film, and outdoor art.
WHAT OTHERS SAY
We were awarded the prestigious EFFE Label as 'a unique festival' by the European Festivals Association, with particular reference to the festival's successful arts participation elements.
Our Community Portrait Photographic Project was nominated for European Rural Inspiration Award 2019.
And we were a county finalist in the National Lottery Good Causes Award 2023.
BUALADH BOS

A round of applause to our funders, supporters, audiences and participants.