Fionntán Ó Súilleabháin, Vice-Chair of Gorey Kilmuckridge District, announced that the eleventh Gap Arts Festival will take place at Ballythomas on August 6-8th.
Speaking at the newly erected sign and map for the Wexford Walking Trail opposite the Gap pub, he noted that the Gap's new audio series starts out at the map and continues on the walk up Annagh Hill.
Are You Ready, a four-part podcast recorded in studio and on location at well-known historical and beauty spots uses the latest 3D sound technology and should be listened to on headphones or earbuds for the full binaural effect.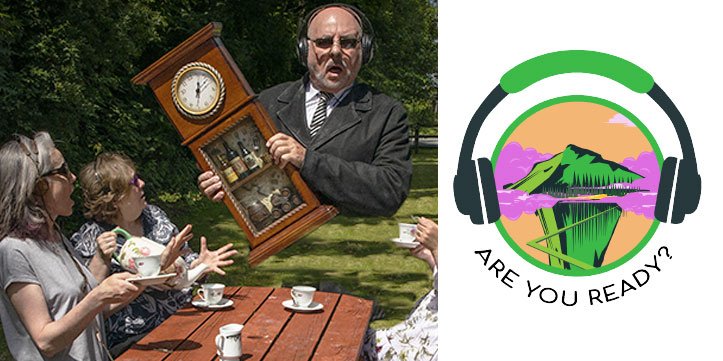 Are You Ready, were the first words ever transmitted by Guglielmo Marconi, the man who invented radio. He spent his childhood summers down the road at his mother's homeplace outside Enniscorthy. The series, available in Irish and English, explores Marconi's theory that no sound ever made, ever dies. So, as well as enjoying the wonderful views from Annagh, the narrator, and the listener, are mysteriously transported into scenes from the past.
Written by Festival director Garrett Keogh, the series mixes local history, true crime, altered reality, with a touch of Shakespeare…
But live performance and the bringing of people together are at the heart of the Gap Festival. And so, as well as the downloadable audio series, this year's programme offers a mix of indoor and outdoor events, all organised in accordance with Covid safety guidelines.

The Gap Outdoor Cinema will present Irish National Opera's The Lighthouse, their brand-new film of their opera based on a true and mysterious story of a lighthouse crew who mysteriously vanished. It is not suitable for children.
But the Gap will also offer a late-night family-friendly movie – so bring your sleeping bags, fold-up chairs and popcorn, and sit back under the stars.
Picnic@TheGap invites families to bring their own food to an afternoon of live music and circus acts in Ballythomas Community Field.

The Field is also the venue for the Sunday lunchtime Classical Concert, with The Navarra Duo, Christopher Quaid and Cillian Ó Breacháin on violins, accompanied by Enya Quaid on piano.


In another new initiative the Gap Short-Short Showcase will present new work – short plays in rehearsed public readings by professional actors and directors. Encouraging local talent, and giving writers a chance to see their work in front of an audience, the submissions cover a wide range of topics and styles, from sea swimming to trade unions, and from tragedy to farce.

There is an outdoor sculpture, The Triskelion, specially commissioned from artist Imogen Stafford, who did the Giant Stag for the Gap Festival in 2020. In the Nature Slate Community Art Project, artist Rachel Druett will host a series of painting workshops for all ages. The works will be displayed in the Gap Community Art Exhibition.
To ensure safe and healthy practice, booking on Eventbrite will be necessary for all events. See www.gapartsfestival.com for details.
All events will observe government health and safety guidelines, including social distancing and sanitisation. People are respectfully asked to do the same, and to wear masks at indoor events. 
Please note that as audience capacities will be very reduced, there is strictly no admission to any event without pre-booking at Eventbrite.ie.